Want to learn how to declutter your bathroom? We feel your pain. Despite often being the smallest room in the house, it is also one of the hardest to keep organized. If you've ever been late to work because you couldn't find that new can of shaving cream you know must be stashed somewhere, you also understand that decluttering your bathroom could seriously change your life.
We can help! In this second installment of our 2018 Declutter Your Home Guide—a series of articles that will pare down your possessions room by room—we tackle this oft-neglected space and show you how to declutter a bathroom correctly. Try some of these tips to bask in a cleaner, calmer bathroom (ahhh).
Nab every inch of space
The first step is to find a home for everything: Take advantage of any place you can carve out some real estate. Consider the back of the bathroom door, the inside of a closet door, or a mounted bin or rack on the wall.
Installing shelves over the toilet is smart, too, adds Marty Basher, a home expert at Modular Closets.
If you don't have a product shelf in your shower, pick up a caddy or small plastic basket, suggests Jacquie Denny, co-founder of Everything but the House. "This way, you can easily move items from the shower to replenish it and then back again in one motion," she explains.
Give it a spin (or use bins)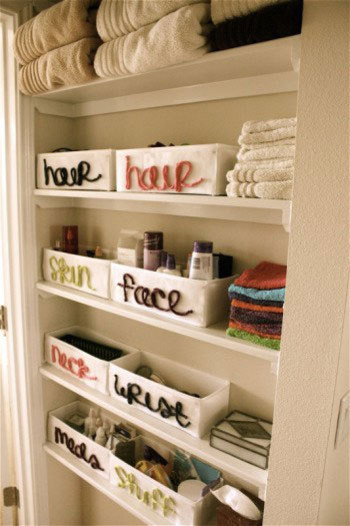 A Lazy Susan under the bathroom sink to house products makes decluttering easy, says Julie Coraccio, the organizing genius at Reawaken Your Brilliance. "Take everything out, remove what you no longer need, put your essentials back in, and you're done," she says.
The same principle holds for pull-out bins.
"With baskets or bins, you can stop clutter before it starts, because you're less likely to add more items than you can hold in each one," she points out.
Go a step further and label your containers, as seen above, or invest in dedicated drawer dividers, suggests Basher.
Break up with your makeup
Face it, ladies—you've probably got too many eye shadow palettes, and they're getting old, too.
"Many women keep makeup much longer than they should," notes Coraccio. Pitching expired items should be a no-brainer, she adds, and it's an easy step if you're having trouble decluttering this area.
Not sure if something's too old to use? Go to the Cosmetic Calculator and find out.
Group like items
Photo by Dura Supreme Cabinetry
As you plow through each drawer and shelf, create piles with similarities so you can put them away methodically. Makeup, of course, will have its own section, and the rest should be easy to arrange, too (hair care products, body lotions, perfume).
And to keep toiletries from piling up, commit to a single item at a time.
"Half-used bottles and tubes become clutter in a hurry, so be disciplined—use and finish what's already open before trying a new product," urges Basher.
Check your meds
Keeping unused or expired medications in the bathroom adds to clutter and can be dangerous. Kids may sample a pill, or you might inadvertently take something in the dark when you're half-awake. The best advice: Let those meds go.
"Why put your health at risk?" asks Coraccio.
But please don't be lazy and toss them down the toilet.
"Make sure you dispose of medications properly as some have been making their way into municipal water systems," she notes. Most cities and counties have drop-off locations or specially designated days when they take unused medicine (check with your local health department).
Learn the difference: Regular vs. special
Not every product deserves a spot on that Lazy Susan or in the bins close at hand.
"Keep items you don't use regularly separate from those you grab on a daily basis," suggests Basher. This means special fragrances, expensive body cream, and once-a-week hair and face masks can live in their own drawer or basket. You'll streamline your products and won't be waylaid pawing through the bin during the morning rush.
Corral kid stuff
Photo by timothy bell photography
Sharing a bathroom with children? Their things need an overhaul as well. Pitch toys they've outgrown as well as those threadbare towels, and create separate storage for the under-10 set. Wire baskets, a plastic bucket, or mesh bag that hangs over the shower rod are a few options for storing toys.
Say buh-bye to samples
The smaller the product, the harder it can be to locate. We're talking about those hotel-size shampoos, lotion samples you've ripped from magazines, and the tiny makeup tubes that come with larger purchases at department stores.
"Donate these unused items," says McCann. There are many worthy groups that'll gladly take unopened toiletries, including homeless shelters, church committees, and school drives for the needy.